After a great performance for the stock market in 2019, I concluded the year's final newsletter with, "I anticipate a rockier ride in 2020." I had no idea how rocky the ride would end up being.

The stock market continued its upward climb until February 19th, when the U.S. began locking down and the S&P 500 began its precipitous 33% drop in only 23 trading days. Small company stocks declined 40% and energy stocks dropped over 55%.
With the economy effectively shut down, things looked pretty bleak. It was fairly clear that life and the economy wouldn't return to normal for quite some time. The stock market, however, always looks forward and doesn't necessarily reflect what's happening in the moment. In March 2020, during the market crash, I emailed this reminder out with the newsletter:
As Jeremy Grantham once said, "be aware that the market does not turn when it sees light at the end of the tunnel. It turns when all looks black, but just a subtle shade less black than the day before." By the time you have spotted a recovery, you will likely have already missed it.
The stock market bottomed three days after that reminder and not only recovered to prior levels but shot past them, setting new records.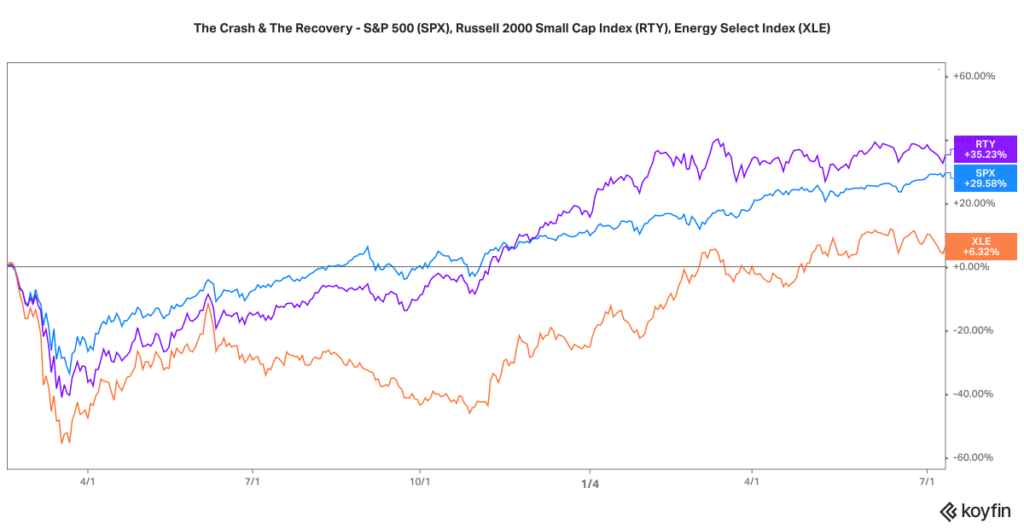 What about going forward?

A lot of the recovery has been fueled by the massive stimulus that has been injected into every corner of the economy… from direct checks to Americans to relief money and loans sent to businesses. Much of this money is, remarkably, still sloshing around waiting to be spent. As it finds its way into the economy, it will continue to show up as earnings. The economic gears are likely to slow after all of this "extra cash" is used up. However, there will be some lasting positive effects for some.

A number of factors have caused supply chains to be disrupted. This is going to give certain companies (for the most part, larger companies) an advantage by leveraging their supply chain relationships over their competitors to permanetly consolidate market share. On the other hand, new competitors will pop up in places where legacy brands may not be able to meet consumer demand on their own. The result means some companies will be able to retain their new, higher valuations. Others, however, will not be as fortunate. Picking between the two will be a difficult task.

For the past year we have enjoyed great stock market returns. It seems nearly every stock has gone up and you could do no wrong picking them. I anticipate a rockier ride into 2022.